About Michael Cooley
Michael obtained his Permaculture Design Certification via Geoff Lawton, Permaculture Research Institute, in 2013 , and had been a student of Permaculture Design independently for many years prior to obtaining the PDC. In addition to being formerly trained in teaching Permaculture, Michael is a Graduate student in Agroforestry at the University of Missouri. His interest in Permaculture came through an interest in sustainable food production and a desire for nutrient rich foods. He is particularly interested in the value of food forests and non timber forest products, perennial food production, and medicinal plants and herbs.
Michael's experience as a licensed Financial Advisor and prior career in hospital administration and Human Resources have given him unique perspectives on the economics of Permaculture Design and the management of inputs. Michael is presently creating a demonstration site on acreage in the northern Shenandoah Valley of Virginia (temperate climate). He is also looking to work in Aid work situations worldwide to further his experience in varied climates. His ultimate goal is to teach the PDC and Agroforestry domestically as well as abroad in developing countries where quality nutrition is not readily available. He is available as a permaculture design consultant and lecturer. Additional biographical information can be found here.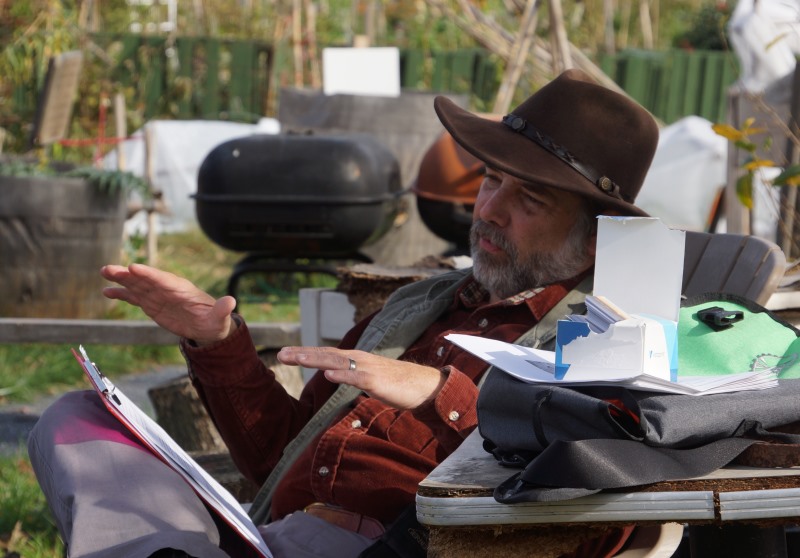 So….What's this Permaculture thing all about?
Let's look and the "What" and "Why" of Permaculture first, before getting into any "How's"
What is Permaculture?
"Permaculture is the conscious design and maintenance of agriculturally productive ecosystems which have the diversity, stability, and resilience of natural ecosystems. Permaculture is about designing sustainable human settlements. It is a philosophy and an approach to land use which weaves together microclimate, annual and perennial plants, animals, soil, water management, and human needs into intricately connected, productive communities"
– Bill Mollison 
"The word Permaculture was coined by Bill Mollison and myself in the mid-1970's to describe an integrated, evolving system of perennial or self-perpetuating plant and animal species useful to man.
A more current definition of Permaculture, which reflects the expansion of focus implicit in Permaculture One, is 'Consciously designed landscapes which mimic the patterns and relationships found in nature, while yielding an abundance of food, fibre and energy for provision of local needs.' People, their buildings and the ways in which they organise themselves are central to Permaculture. Thus the Permaculture vision of permanent or sustainable agriculture has evolved to one of permanent or sustainable culture."
– David Holmgren 
David Holmgren and Bill Mollison cofounded the concepts of permaculture.
Put in my own words,
Think…"Permanent-Culture"
"Permaculture is an ethics based design system that uses natural patterns and processes of God's creative design as a guide for developing productive and permanent high quality food production and communities, emphasizing water management, sustainability, and the use of natural agricultural systems that require little inputs once established, except to harvest the abundance!"
–Michael Cooley
So what I will attempt to do going forward is give some of the "Why's" and How's" of Permaculture. I am hoping to also discuss topics in preparedness from a practical point of view… (like what if we have a major ice storm this coming winter and you cannot leave your electricity-less home for a week for example). I believe those trying to be prepared for hard times would be well served to learn and follow the resilience giving principals provided by Permaculture design.
To assist Thriving Nations, the charitable arm of Thrive Life, the freeze dried food solutions company Holly and I work with https://www.thrivelife.com/holly,  Narrow Passage Permaculture offered a design project to work along with a school building [...]
Several years ago I began a search for detailed drawings and building plans for a Passive Solar Greenhouse. A Passive Solar Greenhouse is one that does not use costly, artificial heat sources such as electricity [...]
Each year in the fall motorcycle riders on the back roads of the rural east must beware of the tennis ball like fruit of the eastern Black Walnut tree. Hitting the hard green ball can [...]
Holly's find...Chicken of the Wood Permaculture Design looks to source trees and plants that can be found local to a property. Oftentimes edible plants grow on a property already, one just doesn't know it. [...]
So this morning we decided to enjoy some of the fruits of our labors.  Fresh Morels, fresh eggs from the chickens, fresh, sauteed and chopped Ramps, and Urui (Hostas) from our patch. Try not to [...]
In December of 2014 I contributed a post here on the Tuber producing plant Yacon (Smallanthus sonchifolius). The plant is traditionally grown in the central Andes mountains of South America from Columbia to Northern Argentina. [...]
Great Opportunity! This is a fantastic [...]
AUTUMN OLIVE Autumn Olive , Elaeagnus umbellate-- most widely know as Autumn Olive-- is also called Japanese Silverberry and recently has come into fashion under the moniker Autumn Berry. The shrub is native to Asia, from [...]
Wednesday, Oct 7th at 9:00pm ET (8pm CT / 7pm MT / 6pm PT) http://beyondoffgrid.com/summit//5-permaculture-principals-you-should-implement-now/?utm_source=NarrowPassagePermaculture&utm_medium=website&utm_campaign=BOGSummitWebinar16_5PermaculturePrinciples&ref=31