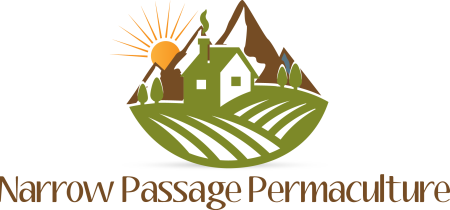 How Much Does a Permaculture Design Cost?
As you can expect… "it depends", but I have posted some price ranges below in each section.
When assisting a person or a family I will assess what is really desired from a permaculture design.  Does the landholder or family wish to focus on food production, beauty, security, sustainability, etc.?  The vision for a property drives a good part of the design.
We also want to assess the skill level, experience and knowledge of our clients.  If you are strong in these areas then possibly just walking the property together and sketching out some ideas at the kitchen table will give you all the confirmation and insight you need to get a good start on your own design.
Someone else with the exact same piece of property who is new to working with soils, plants and other systems might really benefit from a full design that places everything on the landscape.  This is especially helpful when hiring others to assist with implementation.
Here are the services we have found useful to others and the price ranges of each:
A. LESS FORMAL DESIGN CONSULTING
Phone Consultations
It is surprising how much information is available on the internet about climate, topography, soils, predominant winds and sun angles for almost any spot in the US (and even the world).  As a land or home owner, I invite you to send me your address and a simple tracing of the property lines, along with what your desire or vision is for the property.  I then do our research.  In a follow-up phone call (within a week or two) I will share with you what we have concluded regarding the greatest opportunities and challenges for your property related to your vision.
Research plus 90-min. phone consultation —up to 1-acre = $95
For properties over 1 acre acres, add $5/acre  
Example: 16 acres = $95 + (16 x $5) = $175
WalkAbouts
I walk your property in question with the owner and explore the type of permaculture design strategies and techniques would be most appropriate. This is a verbal assessment with written recommendations and general sketches when/where appropriate.  Some useful resources such as a plant list are usually provided and/or recommended reading and website links supplied.
$100/hour, plus travel.  
2-hour minimum for Residence, 3-Hour minimum for 1-acre+.
Travel expense is $.60/mile for distances more than 30 miles. No travel charge within 30 miles of Woodstock Virginia.
Please Note:  The full amount invested in either a Phone Consultation or a WalkAbout will be deducted from the price of a Formal Permaculture Design if purchased later.
B. MORE FORMAL DESIGN CONSULTING
Full Permaculture Designs
Following a site visit and/or our research, we can create a permaculture design including a written assessment, a base map of the property with the design sketched upon it, and a written summary of recommendations.
Prices vary by property size and complexity of the design desired. Here are some estimates for property sizes of 1-25 acres.
Framework Designs                –Est: $700 – $3000
      ~ Assessment
        ~ Analysis
        ~ Design Recommendations with Basemap (to include earthworks such as swales, ponds or keylining if appropriate)
        ~ General Plant Lists for the Application
Full Designs                           –Est. $1000 – $15,000
      ~ Assessment
      ~ Analysis
        ~ Design Recommendations with Basemap (to include earthworks such as swales, ponds or keylining if appropriate)
        ~ Specific Plant Lists with Suppliers Noted
        ~ Implementation Priorities (Time Table)
        ~ Estimated cost analysis for full implementation
Full Design & Project Implementation and Management
           — Est. $6,000 – $10000 plus up to $3600/year for 3 to 5 years.
        ~ Assessment
        ~ Analysis
        ~ Design Recommendations with Drawings (to include earthworks such as swales, ponds or keylining if appropriate)
        ~ Specific Plant Lists with Suppliers Noted
        ~ Implementation Priorities (Time Table)
        ~ Estimated cost analysis for full implementation
        ~ Project Management – Oversee installation of design, work with contractors/installers, trouble shoot, organize maintenance in early months/years, assess results, fine tune design strategies, stay with project until everything is established as projected.
Examples of What Will Be Explored in Full Designs?
For an Existing Residential Property
– create a beautiful, food producing landscaping,
– manage excess rain (hold or remove)
– drought-proofing the landscape
– use of permaculture rain gardens,
– create balanced natural systems,
– use vertical landscaping techniques,
– increase soil fertility,
– eliminating some of the lawn,
– starting a productive kitchen garden,
– reducing energy use,
– likely all the above.
For a Larger Piece of Land
– Where to situate home and other buildings
– Where to place roads, swales, dams and ponds
– Design earth works options such as key-lining
– Where to place orchards, pastures, gardens, etc.
– What livestock options would fit neatly into system. Agroforestry solutions.
– Identify income generating possibilities
– Restoring soil and fertility naturally
– Estimated costs to implement design
– implementation timetable
Our objective and desire is to assist property owners in clarifying a vision for their land and then support them in visualizing a fresh, sustainable and nurturing design onto their property.
C. PREPAREDNESS CONSULTING
I provide individualized emergency preparedness plans that are specifically tailored to an individual or family's needs and situation.
There are free preparedness classes available in most communities, and lots of emergency response information is available on the internet, much being confusing, contradictory, or out of date.  A person will have to untangle and sieve the information to figure out what exactly is useful and applicable to them.
I have been fortunate to have had many years of experience in the emergency management field, I can work with you to figure out the best plan for your individual situation. I have the following experiences, some prior and some current, to draw from in helping you with your preparedness plans
FEMA Disaster Recovery Staff
Licensed Financial Advisor
Emergency Medical Technician
Certified Search and Rescue and Vertical Rescue Technician
Certified Man-tracker
Current Local Emergency Coordinator as General Class Amateur Radio operator, Amateur Radio Emergency Services
Precious Metals Specialist
Permaculture Design Certificate
Agroforester
Formally trained gunsmith and professionally trained rifleman.
I'll walk you through a step-by-step process of evaluating your exposure to risk. By identifying immediate common sense steps to make and you and your family better prepared for a disaster, some potential harm can be reduced to little more than an inconvenience.
Equally as important, you will have the peace of mind of knowing that you have done everything that you can for yourself and your family.
The process-
 After spending about a few hours with you in person or over the phone discussing the circumstances of your situation, I will prepare a detailed, personalized plan that examines the threats and risks that exist in your community, workplace, and neighborhood.
I'll outline the relative capacity of your community to respond to a disaster and recommend basic and advanced items that should be in a disaster kit for your home, vehicle, and/or bicycle. Furthermore, I can help you identify evacuation routes specific for bicycle or foot travel.
In terms of long range preparedness, I'll recommend further steps, like basic first aid classes, heating and water storage upgrades, or other vital preparedness skills or equipment that make sense for your situation.
I'll send you your plan, and then we'll spend about an hour discussing it. I'll answer any questions you might have and will answer additional questions or make minor changes to the plan based on changing circumstances for up to one year without additional cost and within reason.
The fee for preparedness consulting is a flat rate of $275.00 for the completed review and written plan.