To assist Thriving Nations, the charitable arm of Thrive Life, the freeze dried food solutions company Holly and I work with https://www.thrivelife.com/holly,  Narrow Passage Permaculture offered a design project to work along with a school building project in Kenya. The project involved building a much needed classroom in a very poor area of Kenya. The children there have very little in the way of nutrition during the school day and the school campus is in an area that is very dry most of the year. To make matters worse, the ground had been greatly degraded from over grazing and deforestation.
The permaculture and agroforestry design had several purposes. One was to rebuild the soil on the approximately 4 hectares of property (about 10 acres). This was accomplished by incorporating trees into the system that fix nitrogen into the soil as well as re-building the soil itself with carbon matter. The idea is to allow the trees to fertilize the ground automatically. The second purpose was to provide several sources of food to the school both by fruit and small livestock in the form of rabbits and an apiary. The third purpose was to install a filtering windbreak between the dusty dirt road and the school complex to reduce dust into classroom that have window openings but no glass.
Working with the charity's non governmental organization Choice Humanitarian, the property specifics were identified and the design project began. The area of Kenya where the Muungano School campus is located is classified as a Tropical Savanna to Semi-Arid Climate. Trees and shrubs that were appropriate to the climate and weather patterns were selected carefully, with production and low maintenance being key.
Trees for rebuilding the soil included Calliandra calothyrsus and Leucaena leucocephala.
Trees to provide perennial nutrition include African Custard Apple Annona senegalensis, Common Guava psidium guajava, Carica papaya, Moringa  –  Moringa oleifera Lam (Moringaceae), Date Palm- Phoenix dactylifera and Breadfruit (Artocarpus Altilis).
Breadfruit, Papaya and Moringa: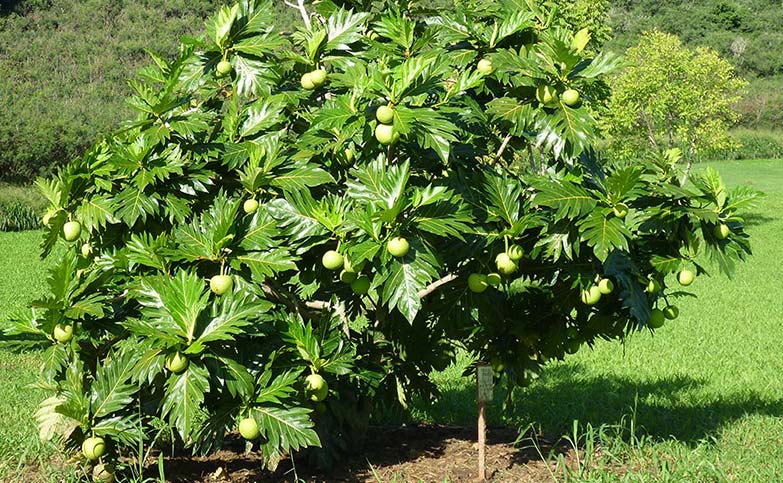 New Zealand White Rabbits were chosen for meat production and an apiary was placed away from the school yard but accessible to carts or trucks for moving Bee Hives for work and processing.
Much of the project involves earthwork construction in the form of Swales, which are ditches on contour that capture water from the short rainy season and enable trees to thrive in an otherwise dry environment.
We're hopeful that much of the plan will see adoption and benefit the students and staff of Muungano school. Cost analysis shows a high benefit over cost associated with increasing food brought in from other sources over time.